Oilstick Home
March 31, 2013
Art Malone
My long life buddy, partner and friend died at home this morning at 6 AM. This was the final result of an Airboat accident several years ago, Art was injured severely and never fully recovered. I talked to him on March 27th and he was in good spirits, thought he had lost a lot of weight. The brute of a man was down to 175 pounds, my weight! His wife Sandra was at his side. more information/from Don Garlits
April 16, 2012 This week we lost two great men. Bernie Partridge and his son John Partridge passed away within a short time of each other. Bernie was a Vice President of the National Hot Rod Association (NHRA) and was very respected by the Parks family. A celebration of life for Bernie Partridge will take place Thursday, April 19 at 2 PM at the Wally Parks NHRA Motorsports Museum. His son John was a track announcer and track official at Irwindale and other drag strips. John Partridge's Memorial will be held at Irwindale Speedway Saturday, April 21, at 10 PM. Dates and places are taken from the NHRA website. Sincerely, Richard
Parks
---
Memorial/Celebration of Life for Burke LeSage. I am trying to get the word out to as many folks as possible. Please help in any way you can. If you have a web site, know of a web site, know friends and/or associates of his and you have a way of contacting them please assist me and the family. Friday, January 20, 2012 at 1:00 PM at The Wally Parks NHRA Motorsports Museum, 1101 West McKinley Avenue, Bldg 3A Pomona, California 91768. If you have photos, or anything you'd like to share please bring anything and everything. Larry and I are assisting the family and organizing the program. If you have any questions feel free to contact me. Anne Lindsley, malindsley@aol.com
---
Wednesday July 28, 2010 5:45 AM
TODAY AT 2:45 RICH PICHETTE PASSED AWAY
Guess that was the only way he could go to his
Buddy Watson's funeral Saturday.
---
Mary Parks Mary Parks passed away today,
Saturday, April 3, 2010 at 4:50 pm
at her home in Corona Del Mar, CA.
click here for more information from Richard Parks
Funeral services for Mary Mant Parks will be held on April 17, 2010
at 11 a.m., at the Church of Jesus Christ of Latter-Day-Saints, 2150
Bonita Canyon Drive, Newport Beach, California. (driving directions)
---
1) My beloved KS passed away at 11 PM last night, January 31, 2010
very peacefully. I don't have any of the upcoming details,
but will email later. Thank you all for your good wishes
and prayers. KS and I are so blessed to
have friends like you. Love, LaVaun Pittman
Reviewers: KS has passed away. Would you please post to your
websites or notify those whom you think may be interested. KS is from
Missouri, but I don't know when or where the services will be held.
I'm looking for a bio on him. Does anyone know of a source that
I can go to? Thanks, Richard Parks.
---
Steve Snoddy long time photographer at the Indianapolis Motor Speedway passed this week.
In a message dated 9/10/2009 11:10:22 A.M. Eastern Daylight Time, RFalcon500 writes:
Sad to report that word has reached me and been confirmed that Walt took his last checkered flag last evening.

James was a giant in SoCal oval track racing from the post WW2 days up until his recent hospitalization. He and his beloved wife, Dottie, did much to keep many of we oldtimers together.

Walt was also active in vintage car racing with The Western Racing Association.

Once we hear of the funeral arrangements we will pass the information on to you.

Bob Falcon

---
John Thawley (aka Bob Waar) 1937-2009 – Author and motor journalist
John Thawley died last month of complications from pneumonia. He was 71. more
---
Just to let you know that Billy Wilkerson "crossed the finish line" and was interned at Rose Hills, Whittier yesterday.(Aug 11. 2009) I received a very short note from Hila Sweet about this but no other details.
Billy lived in Temple City CA and began his racing at Culver City Speedway in the CJA Jalopys...he soon moved up to CRA and won the annual championship a few times. He was a good guy...
I also received word that Walt James was in the VA Hospital...no further info on either of these guys. Thought you would like to know. RFalcon500
---
WILL SCOTT passed away June 27, 2009 around noon. Services at the Museum Thursday
July 9, 2009.
@ 1:00 PM. He's racing from one cloud to the other looking for Jack.
Photos of attending service friends.
---
Robert Pierson

Oct. 9, 1926 — April 29, 2009
Robert Pierson died April 29 at his Crystal Falls home. He was 82.

An aeronautical engineer, he served in the U.S. Army Air Corps and was em-ployed by Edelbrok Automotive as a consultant on car development. His family said his life's passion was racing cars. He was a fan and a supporter of the sport at the Bonneville Salt Flats. The national speed racing champion in 1950, he broke several land speed records at Bonneville, Utah, in following years. He is survived by his wife of 20 years, Sandra Pierson, of Crystal Falls; and a brother, Dick Pierson, of Southern California. Donations may be made in his name to Save the Salt, 970 E. Oakwood Drive, Bountiful, Utah 84010. No services are planned, per his request. Terzich and Wilson Funeral Home handled arrangements. (

Scott Baker-

Reedley, CA-

www.bakerracingpix.com)
We start off this week with some very sad news. Good Friend and Editor of Street Scene Magazine, Joe Mayall, passed away this past weekend. Joe was visiting friends in Las Vegas when he apparently suffered fatal respiratory failure Joe has many friends in the rodding community and he will be dearly missed. We always looked forward to seeing him at the NSRA shows and whenever we were in So. Calif. We have a link to a site created for Joe Remembering Joe Mayall
June 2009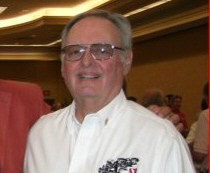 ---
Sunday, May 24, 2009 9:13 PM

Subject: Gordon Betz




Some sad news from Arizona. Our dear friend Gordon Betz passed away Sunday afternoon. He watched the start of the Indy 500, slept a bit, saw the end of the race and went to lie down for a rest.
When the nurse went in to check a short time later he was gone. Arrangements are pending.

Art Meyers art.racer33@ cox.net (take the space out to use as email)

---
Lynn Wineland, RIP
Bernice Rathbun 1919-2008, 88 years old, passed away Aug 25 after
a short illness in the hospital. She was a friend of the Gold Coast Racers
at Mendenhall's Museum. Played piano for occasions at the Museum.
Friend of Chuck Abbott, of Dry Lakes Racing Hall of Fame, and spent
time helping and selling for the "GasUp" Events. Celebration of her life
was held Sept 11, 2008 at Santa Maria, CA for family and friends. (Evey's Mom)
---

Marvin Edward Jenkins 1919-2008, 88 years old, of St George, Utah,
passed away peacefully at his home on Sunday, September 14, 2008 from
complications of a recent illness. He was born October 23, 1919, to
David Abbott Jenkins and Evelyn Irene Thorstenburg in Blackfoot, Idaho.
Funeral services will be held Saturday, September 20, 2008, at 11 a.m. at
Bloomington Hills 2nd Ward, 750 Ft. Pierce, St. George, Utah. Visitation
will take place Friday, September 19, 6-7 p.m. at Spilsbury Mortuary, 110
South Bluff Street. Interment will be in the Tonaquint Cemetery, St.
George, Utah. Arrangements are made under the direction of Spilsbury
Mortuary, 110 South Bluff Street, St. George, Utah, (435) 673-2454.
Friends and family are invited to offer their condolences at
www.spilsburymortuary.com. Click on the dove. Derived from the Deseret
more click here
---
Received word last evening that Ed Justice, Sr. had crossed the Finish Line at 0430 H, Sat 30 August. He was 87 years old. 2008
Services set for 11 September at Rose Hills-Whittier in the Sky Rose Chapel with a memorial following at The Justice Brothers Museum in Duarte CA.
---
June 7, 2008 we celebrated Aage Block Jr's life at Mendhall's Museum.
Mark Mendenhall's BBQ crew served a delicious meal for family and friends who
ate and drank a toast to Aage. 9/18/37 - 5/23/08. We'll miss you.
photos by clicking here. 080611
John Buttera, 68; builder of hot rods-------March 11 2008-------------

The Wisconsin native, who made his name in Southern California's racing
culture, is credited with a key engineering advance that helped him create
sleeker, lighter autos.
John Buttera, a trend-setting builder of hot rods and race cars whose
minimalist designs and mechanical ingenuity influenced racing for decades,
has died. He was 68. (information in from a reader)
---
Last Updated: Monday, Mar 10 2008 11:27 PM

An autopsy Monday revealed that drag racer John Shoemaker age 65, who died after a crash on Saturday at Auto Club Famoso Raceway, died of injuries suffered in that incident. More information click here

---
---
OUTRIDERS
Boyd Coddington's Garage
Hello everyone,
For those that are interested arrangements have been made. A wake will be held at Our Lady of Guadalupe Church, 900 W. La Habra Blvd, La Habra, California on Wednesday, March 5th, 2008 at 9am. This will be followed by a reception at our shop, Boyd Coddington's Garage, 811 E. Lambert Rd., La Habra, California. Both of these are open to any who would like to attend. The idea of you all showing up with your hot rods brought a tear to my eye, Boyd wouldn't have it any other way. Thank you in advance, it means a lot to all of us.
Todd Emmons for Boyd Coddington's Garage
Well gentlemen very sad news,
Boyd Coddington
passed away this morning.
He has been battling health problems for quite some time. 2/27/2008
---
Service for Ron Benham. February 2nd 2008 at 1:00 PM at Rose Hills off the
605 freeway. George Callaway
---
Willard Ritchie's funeral will be Monday, January 28, 2008 - 4-7 pm.
Viewing at Mumaw Funeral Home, 44663 Date Avenue, Lancaster CA, (Between
Lancaster Blvd and Ave J East), Tuesday, January 29, 11:00 am. Funeral
services at Lancaster Elks Lodge #1625, 240 East Avenue K, Lancaster with
interment at Joshua Memorial Park. In lieu of flowers, we are asking for
donations to the Flight Test Historical Foundation, P.O. Box 57, Edwards,
CA 93523 or to the Elks' Major Project or a charity of your choice. Dad
was a charter member on the Foundation board and a lifetime member of the
Elks. Thank you, Gail, Marion, Karen, Gail and FamilyDad, Willard Ritchie, 1927-2008 passed away peacefully early this morning, 21 January 2008, about 3:30 am. We went to see him as a family late last night so we could all say our goodbyes. It has been difficult this last few weeks watching him go down hill. Tomorrow would have been his 81st birthday. Right now it looks like his funeral will be on Tuesday, 29 January, but we haven't firmed that up. I will let you know the details when we have them. Thank you all for keeping in touch with him over the years. We all know he loved his email. The Ritchie Family, Marion, Gail and Karen Dear Marion, Gail and Karen: We are so sorry to hear of your loss. Willard, or "The General" as I called him, was a good and close friend and one who helped preserve the history and heritage of hot rodding and racing in the local area. He and my father were very close and the two were responsible for much of the work in getting Muroc re-opened for several reunions. We will miss him. If you have a biographical life story on your father, would you send it in so that we can add it to our histories of the men and women who made land speed racing possible in Southern California. We would really like to know more about him. Our condolences to you all. Richard Parks
---
Chris Breedlove 1956 - 2008 Chris Breedlove, 51, died Monday, Jan. 7, 2008, at her home from lung and brain cancer.
Chris was born May 17, 1956, in Santa Monica to Margaret Kastler, 71,
and Craig Breedlove, 70, and had been a Ventura County resident 17 years.
Chris was the eldest of three children. She had a brother, Norman Craig, 50;
and sister, Dawn Marie, 49. She grew up in Costa Mesa, graduating from high school in 1974.
Chris worked as a bookkeeper for most of her life. She loved animals and often donated to animal charities and shelters. She loved to sit in her garden and make things grow. She had a green thumb and could make anything take root. She counted down the days until the next NASCAR race and cheered for her driver every time. As well, she felt at peace when she was speeding down the highway blasting her stereo. She went to Hawaii when she could make it and enjoyed playing nickel slots in Reno with her mother.
He laugh was hearty and infectious and unmistakably her own. She loved to watch movies that made her cry,
her favorite being "The Way We Were."
Chris is survived by her daughters, Tara Van Wieren (17) and Stephanie Finnegan (26), whom she loved very much.
A memorial service will be held at 2 p.m. Saturday, Jan. 12, at the Ted Mayr Funeral Home, 3150 Loma Vista Road, Ventura.
In lieu of flowers, memorial contributions may be made to the organization of your choice concerned with cancer research.
Arrangements are under the direction of the Ted Mayr Funeral Home and Crematory, Ventura.
---
Just got the news from Bill Groak on Dick McClung's recent death and it's now in the News Section of www.speedstylemagazine.com with a mention in the intro column. Bill Moore Readers: Bill Moore is the past editor of DRIVE Magazine. 080111
---
ART ARFONS (Dec 2007) Friends of speedy deeds . . With tears and a halting voice, a member of the Arfons family called me early today to say Art passed into the great speed laboratory in the sky at 4:00AM CST Monday morning.Art will be buried in his fire suit, with wrenches in his hands and J79 jet engine operating manual by his side. Also tucked away with him will be a jar of salt bought home – oh so many years ago.Art Arfons was the epitome of land speed racers – an ordinary guy who chose to do extraordinary things; he never tried to be someone he was not, or weave a facade of celebrity around himself. Arthur always let his deeds speak for themselves.
He was my friend, one I did not see too often, but whose passing touches me deeply, the historical foundation of the sport is a bit more hollow tonight.. Some speed has gone out of the world today. The likes of which is a pioneering touchstone to honor and remember with gladness.
Landspeed Louise
Art Arfons and Willie Young have passed away.(per the Landspeed Historian Newsletter)
---
Saturday, November 24, 2007 2:33 PM
Subject: Dave Enmark
I talked to Steve McElroy this morning at the Donut shop..
We lost Dave Enmark this morning at 2:00am..will let you know about family plans for celebration of life event.
---
Shav Glick passes away October 20, 2007. click here for more.
---
CONNIE SWINGLE; 24 September 1935 - 29 September 2007, by Don Garlits
---
Wally Parks passed away today 9/28/2007 at the age of 94. Wally started the NHRA
Tribute Information email from Richard and David Parks Landspeed Louise HotRod
---
Skip Gacksteter, passed away September 1, 2007. At Echlin, he formed a trackside group of Field Engineers to support Accel racing activities all over the country. Services are pending. (from Bob Falcon)
---
5) Barney Navarro Celebration of Life, Oct 13, 2007, 11am at H&H Flatheads, 4451 Ramsdell Avenue, La
Crescenta, CA 91214. The memorial will be outdoors and informal. (Donna Navarro)
---
Fred Iaia - vacationing in Alaska felt ill, called 911, and had 3 way by-pass surgery today.070903
Fred is getting stronger each day. Still in Alaska. Fred is back to CA and recovering. 070929 YAH!
Fred is a boat enthusiast and with Richard Parks and Don Edwards started the First Boat Reunion.
www.frediaia.com Don Edwards has written a book on Boat Racing in the 1960's.
---
From: Vic Enyart, 22 Aug 2007, Subject: Just found out that Barney Navarro passed away. Vic Vic:
Do you have any details of what happened and if there will be a memorial? Does anyone want to send in their memories of one of the original dry lakes and speed equipment manufacturers. R.Parks
---
Chuck Abbott of Simi Valley, and Dry Lakes Racing Hall of Fame, passed away Aug 12, 2007,
after fighting pneumonia since May 11, 2007. Funeral services are at Eternal Valley,
23287 Sierra Hwy., Newhall, CA. 3:00 PM Saturday, August 18, 2007. (070813)photos
---
Rosie Roussel's memorial service will be Saturday, August 18, 2007. 11am
,
New Life East (Assembly of God Church), 1701 Niles Street, Bakersfield, CA.
---
Dorothy Wickham, click here for more photos
She was born November 24, 1915, in Wabash, Nebraska. We lost her on July 26, 2007.
She blessedly died peacefully, in the mother-in-law suite she had come to know as home,
at my parents' house in Acton, CA. Grand-daughter.
---
Don Gay Sr died June 30th. 2007. He was a well known Factory Stock and Funny Car drag racer in the 1960's.
---
Robert F. "Bob" Snodgrass, Jr. - September 25, 1942 - April 24, 2007 click for more
---
Robert E. Meeks
July 17, 1921 ---- Aug. 8, 2006
At the age of 85, "Bobby" Meeks entered eternal life. Bobby was born in St. Louis, Mo. He joined the Navy in 1942 and served his country until October of 1945. Bobby is well-known for his contributions to and being a pioneer in the high performance automotive industry. He was not only a pioneer, he was instrumental in developing speed equipment, working with the Edelbrock Corp. since its inception, giving Edelbrock nearly 65 years of his life. Bobby had the job every boy dreams of living, breathing and racing high performance cars. Bobby stood and worked side by side with many of the greats and was well loved for his knowledge and never failed to help those who asked. His many accomplishments included working and perfecting the Ford Flathead and the Chevy V-8 engine that went back to the inception of the industry. He also worked with the legends of the sport, setting many land speed records at the Bonneville Salt Flats. Bobby was loved by all who knew him and will be greatly missed.

He is survived by his son, Mike, was preceded in death by his wife, "Sis," one grandson and one great-grandson.
Memorial services were held at the Canyon Lake Country Club, Monday, Aug. 14, 2006, at 1:30 p.m.
God Speed Dad. Evans-Brown Mortuaries (951) 679-1114
Thad Luyben, director Sincerely Scott Baker Reedley, CA www.bakerracingpix.com
1. Robert E. Petersen, founder of Petersen Publishing (Hot Rod Magazine, Motor Trend) passed away on March
23, 2007. A Celebration of Life was held on March 29 at the Petersen Automotive Museum. (Story available)
2) The 15th California Racers Reunion will be held on May 6th, 2007 in Southern California.
3) Congratulations to Scott G. Parks, grandson of Wally Parks, on passing his California State bar exam.
4) Joe MacPherson passed away on March 30, 2007. MacPherson owned many car dealerships and fielded a
racecar at the Indy 500. Joe's Garage (museum) in Tustin, (CA) hosts many banquets and car club functions.
5) Best wishes for a speedy recovery to Cal Wineland, longtime Petersen Publishing employee.
6) The Cruisin' For a Cure raffle car will be at the Long Beach Grand Prix, April 13-15, in the Firestone booth
for the weekend. You can buy tickets for the drawing. Proceeds go for prostate cancer research.
7) Mary Mondello sends us word that Joe Mondello is recovering from major back surgery performed on March
29, but intends to be back porting and teaching in about a month.
have written a book or produced a move/video, send requests for reviews to me or to the websites. Readers,
please support our auto/boat/motorcycle/racing authors and historians. They keep the sport alive for us.
9)
Jack McAfee, a sprint car and road course driver, passed away on March 10, 2007.
www.jackmcafee.com
10)
Glen Barrett, Chief timer at Bonneville for many years, had by-pass surgery April 5th in Washington, Utah.
He is recovering and will be home in a few days. (from Glenn Freudenberger)
11) Joe Alexander passed away on 1 March 2007. He was 93 and a lifetime member of USAC, and a member of
the Oldtimers. He worked on the Technical Committee at the Indianapolis Speedway (prior to Frankie Delroy)
through the 1990's. Joe and his brother were mechanics on Indy Cars before that. Services were held 6 March
2007 in Stewartstown, PA. (from Wanda Devin)
12) Rick Stewart, a veteran news anchor in Sacramento and former NASCAR driver, passed away recently. For
more than 2 decades Stewart announced the Grand Prix of Long Beach and Laguna Seca with Bruce Flanders,
according to Art Glattke. (Jason Kobely)
---
I have just received the news that the founder of the Set Free Motorcycle Ministry's
church here on California's central coast, Pastor Don Gonzales, has been
taken to City of Hope hospital in Los Angeles. Having successfully battled
cancer over the last five years, this time it doesn't look good.

Same for my buddy Stephen "Iceman" Dans. As he has had a relapse
of his liver cancer, they are apparantly going to send him to Stanford's
medical center up near San Francisco.

Both of them are a major part of my life, two of only half-a-dozen
I put into the friend realm. And while you're at it, please pray
for me too as things aren't well here either.
Blues (Joe Stephen - Santa Maria, CA) 070406

Petersen's Museum Founder passes on: click here 070404
Bill Bagnall, AMA President from 1967-1969, has passed away. His memorial will be in Tustin, California,
in late January. He was 80. Bagnall was also past president of the Trailblazers, a California motorcycle club.
Danny Oakes, 3-time West Coast Midget Champion, and crew chief on a winning Indy car team, passed
away January 13, 2007. Danny was 96 years old. One of the all time favorite midget drivers, Danny was
known as a money driver, racing 6 and 7 times a week, traveling all over the country. Like his good friend,
Rodger Ward, Danny kept his car positioned to win or place high at nearly every race he entered. Oakes
was a great dancer, and went dancing long into his 90's. "That's how I kept in shape, and it gave me the
stamina to win those 50 and 100 lappers." Oakes was called "Dapper Danny" by his friends and racers for
his impeccable wardrobe. As a master mechanic, Danny won the respect of the racing fraternity.
Sunday, December 10, 2006 9:22 AM Subject: Ron Roseberry
Got a call from Mike Hunter last night. Ron passed away yesterday. Mike will let me know about
any memorial service, but as now nothing is planned....
---
http://beachcombers.com/WOODIES.html for the information on Rick Finn - Sept 30,06 will be a memorial cruise for him.
---
I am deeply saddened to learn that Aussie racer Peter Brock (no relation to American car designer Pete Brock) has been killed in a pavement rally there. The 61-year old multi-time Australian Touring Car Champion, 10-time Bathurst 1000 winner, former head of the GM Holden Dealer Team and builder of their "tricked out" Holden road cars, and highway safety spokesman, died when his car left the road and hit a tree.
Peter was in his prime when I lived there in 1978. I watched him in several races and he was simply the best. I also had a chance to sit down and visit with him away from the track. He was a quiet, gentle, decent man. After his retirement from track racing he started the Peter Brock Foundation to encourage others on to the same kind of personal success he came to enjoy, and to try and give back to those less fortunate. In a world where the word "class" is over-used, Peter was every bit that.
Since he never drank anything stronger than a cup of tea I'm having one for him right now. With that I will use the Aussie farewell "Vale, Peter", it was a priveledge to know you.
Joe Stephan (for more information check link below.)
http://www.theage.com.au/news/motorsport/peter-brock-killed-in-crash/2006/09/08/1157222310944.html
---
Creighton Hunter: I got a call today from Mike Hunter. Creighton Passed away Saturday at 3:55pm.
Neptune Society is taking care of the ashes.
The family is probably going to have a memorial in Pomona in Nov. when the drag races are in town...
will let you know, when I know more......Phone number Mike 714-639-7709 Rev Scrub.060828
---
SERVICES FOR
TOMMY ASTONE SR
ARE
WED JULY 26, 2006 AT BELMONT MEMORIAL PARK IN FRESNO, CA.
AT 0900. WHITEHURST FUNERAL CHAPEL IN FRESNO IS IN CHARGE OF SERVICES.
TOMMY ASTONE SR. DIED SATURDAQY, JULY 22, 2006, IN FRESNO , CA. HE WAS 88 YEARS OLD.
TOMMY OWNED RACE CARS FOR OVER 30 YEARS AND HAD SUCH DRIVERS AS TOMMY JR.,
JIMMY CARUTHERS, AND OTHER RACING GREATS FROM THE 60 S AND 70 S. TOMMY IS THE
FATHER OF JOYCE VUKOVICH, TOMMY ASTONE JR. AND SANDRA SAROONIAN. A RACING
FAMILY IN FRESNO FOR OVER 65 YEARS. JOYCE IS WIFE OF BILLY VUKOVICH JR., ONE OF
THE GREATS FROM THE 60 S AND 70 S, FATHER OF OUTSTANDING MIDGET DRIVER
TOMMY ASTONE JR WHO IS MARRIED TO WALLY MESKOWSKI S DAUGHTER, JOY,
AND FATHER OF SANDRA SAROONIAN WHOSE HUSBAND JOHN OWNED RACE CARS
FOR YEARS. I M NOT SURE OF SERVICES YET BUT IF YOU WANT THE INFO E MAIL ME
AND I WILL GET THE INFO TO YOU. DENNIS JOHANSEN
---
Longtime USAC chief mechanic LeRoy Neumayer died Sunday, May 7, 2006, in Jackson Hole, Wyoming. He had
been hospitalized for over a year. Neumayer, 76, was associated for many years on the USAC circuit with A.J.
Foyt. He also was very involved with NHRA and the Bonneville Salt Flats program. At his request, he will be
cremated. No immediate service is pending, but one is planned for later in the summer in Pinedale, Wyoming when
it will not conflict with the racing schedule. Neumayer is survived by his wife, Joan. Condolences may be sent to
her at 306 S. Lincoln Ave, P.O. Box 275, Pinedale WY 82941
---
*Larry Beck of www.HotRodCruises.com passed away this morning, Tuesday, March 21, 2006,
at 5:30am at UCLA from a hard-fought battle with pancreatic cancer. He and his wife Paula have
been producing car cruises throughout Southern California for several years including the John
Force RaceStation Cruise Nights, Million $ Breakfast Cruises and several others. There will be a
memorial service/cruise this Sunday, March 26, at 9am in Irvine; just down the street from John
Wayne Airport, at the following location that is at the site of the weekly "Million $ Breakfast
Cruise." There is parking for 800 vehicles, so please bring your street rod, muscle car, antique
or classic and be apart of this day to celebrate Larry Beck's life. Taleo Mexican Grill, 3309
Michelson Drive, Irvine 92612. 405 Freeway - Exit Jamboree South – LT Michelson Drive –
LT Carlson into parking lot. In lieu of flowers, Larry's wife Paula has requested donations be
sent to the Pancreatic Cancer Action Network (PanCAN) Donation. See the following website
*From Sherry Schaeffer, daughter of Jerry Eisert. "My father, Jerry Eisert, passed away
very early on Friday morning February 23, 2006, after a long battle with colon cancer.
We are having a memorial for him Saturday March 4th at 1:00 PM at Grace Church, San
Marcos. We expect a lot of family, friends and racing buddies. I'm Jerry's oldest daughter,
Sherry. I remember standing in the pits and gasoline alley as a young girl. Knowing my
Dad was battling cancer my husband and I built a second home (with a huge garage) on
our property in Southern California for my parents. Currently I have the 96 Indy Race
Car in my garage. This car was driven by Al Unser, Johnny Rutherford, Ronnie Duman,
Greg Weld, Peter Revson, Jerry Grant, Billy Foster & Roger McCluskey. Dad never stop-
ped designing cars, currently he has an unfinished hot rod with a rear engine North Star
Cadillac engine! My husband and brothers are going to finish it in memory of my dad."
Memorial for Jerry Eisert, March 4th, Saturday 1:00 PM,
Grace Church San Marcos.
Go to the following web site for directions. http://www.gracesanmarcos.org/ Reception following at
home of: Sherry & Roland Schaeffer's at Mom & Dad's "new pad" guest home on Mulberry
515 Heiden Court, San Marcos, CA 92069.
---
Leo Dempsey recently had a stroke and is in the hospital. His speech is impaired but he is mak-
ing progress towards recovery. Bob Martin recently underwent surgery to remove a tumor in
the brain, and is doing well in recovery. The doctors changed his medications and he is doing
much better. Bob Webb had a heart transplant and all reports are that he is doing very well,
although total recovery time takes some time. Neil Thompson had triple bypass surgery and a
heart valve replacement, and after a rocky start, is now well into recovery. Dyno Don
Nicholson passed away. Nicholson was a dry lakes racer from the 1940's, and then competed
in all types of motorsports racing. Bob Sights of the Gear Grinders saw Bob Webb yesterday,
and he is looking good and doing well after his heart transplant. Webb visited Jack's Garage and
saw Jack Underwood and the local Donut Derelict guys. Al Teague has had gall bladder
surgery. Wes Hutchens is still undergoing tests. Joe Thompson of the Lakers has been in the
hospital about a week and a half after open heart surgery and a stroke. Dated:060222
Modesto Bee staff writes, Feb. 9, 2006 Oakland CA: Chuck Billinton 65 and Dave Mesenhimer, 61,
killed in plane crash. More info
Barbara Parks passed away on Wednesday, January 25, 2006 after a long fight against cancer. A nice article about
her can be found at
www.NHRA.com
. Barbara was instrumental in helping to form and guide the
National Hot
Rod Association (NHRA). She presided over the ICCA (International Car Club Association), in the early 1960's,
a concept to bring back the car clubs of the 1930's and '40's. Tex Smith worked for her at the ICCA, and they
were committed to this organization. She believed that the way to keep kids from street racing was to offer them
an organization that would strengthen the automotive hot rodding movement, and provide safe and sanctioned
activities. Barbara was born in New York, and came west to California in the early 1950's, and went to work at
Hot Rod Magazine. After working at the magazine all day, she would work on the records of the new organization
(NHRA) in the evenings, taking phone calls, and giving her advice and input concerning the direction that the new
racing organization should take. A memorial service is planned for her at the Wally Parks NHRA Motorsports
Museum at 909-622-2133 for details.
---
"Dyno Don" Nicholson Passes
(1-24-2006) - A legendary figure in drag racing passed away this morning. Dyno Don" Nicholson was an engine builder and driver whose talent and skills have seldom been surpassed.

He began his career on the circle tracks and dry lake beds in the 1940s before moving on to quarter-mile competition. A pioneer in what have now become some of the most popular classes in the sport, including Funny Car and Pro Stock, Nicholson was a major player throughout the 1960s and '70s.

Nicholson still holds the record for final-round appearances in the most NHRA eliminator categories, scoring wins or runner-up finishes in Funny Car, Pro Stock, Super, Comp, Stock, and Street. (from Scrub)
---
Gene Mooneyham, early lakes, drag racer and manufacturer of
superchargers, passed away
on Tuesday, 17 January 2006. Services are pending. (Glen Barrett)
---
---
Retired USAC Midget racer Forrest ''Forrie'' Vilander passed away 24 December 24 2005
after a long fight with cancer. He was 72. Forrie lived in Arcadia California from 1956 until his
passing. He owned the Mobile Service Station in Alhambra near the intersection of San Bernar-
dino (10) and Long Beach Freeways (710) during his racing years in the early 60's. His midget
race car was often seen by Hwy 10 commuters as it sat parked at the front of his service station
near where Cal State Los Angeles is presently located. Forrie raced his #22 Ford V-8 60 flat
head Midget as a member of USAC at Ascot, Gilmore, Western, Bakersfield, and many other
So Cal dirt tracks between 1957 and 1963. His car was always painted a distinctive ''Cadillac''
Rose with bold white #22 numbers. His mechanic painted ''Forrie's Ford'' on the cockpit as a
prank and Forrie elected to keep the lettering on the car since he liked Fords. Scott Vilander
has a picture which shows Forrie in his Arcadia garage prepping his Ford powered midget for
an ''all Offy'' show being promoted at Ascot Park by JC Agajanian. Something of a joker,
Forrie knew he could qualify his Ford at this home track against at least a few of the more power-
ful Offy's if the dirt was slippery wet. Forrie showed up and qualified his Ford V-8 60 Flathead
for Aggie's ''All Offy'' Show and quietly took his place on the grid for the driver introductions.
Forrie knew he wasn't supposed to be there, but he enjoyed playing the underdog with his under-
powered Ford. However Agajanian spotted the #22 Midget parked on the front straight among
the Offy's and ordered the track personnel to push the car back to the pits. Forrie was ready to
go quietly, however some fans saw what was happening and started booing the men in white. A
comical tug of war ensued between the USAC guys and Forrie's crew members. The fans made
it clear they wanted Aggie to let the Ford run fair and square. Needless to say, Forrie wanted to
keep racing at Ascot in the future, so he waved and ordered his crew to push the Ford away, so
the Flathead could fight another day. A private service will be held for Forrie at Rose Hills Park
& Mortuary, 11 AM on 6 January 2006. (Scott Vilander, Santa Barbara, CA)
---
*Sherry Lee Roussel passed away from cancer. Born in St Louis, MO, raised in Culver City,
CA, and resided until her death, in Bakersfield, CA. Sherry used to babysit for the Cal Niday,
Johnny McDowell, Johnnie Parsons and other racing families. She married Rosie Roussel
after he won the 100 lap feature race at Balboa Stadium on Labor Day in 1959. They promoted
and managed Saugus and Bakersfield Speedways together. She passed away on December 21, 2005
Former Top Fuel racer Steve Carbone, from Tulsa, passed away Dec. 20, 2005. More information #103
---
*
Ak Miller -
Thursday, December 15, 2005 at around 5:30 PM,
Ak Miller
passed away.
More information
#103
---
Will Scott (12/28/05)is back in hospital after Open Heart Surgery of 12/15/05 101
---
*Al Teague underwent surgery on Dec 6, #101
---
Ray Nichels (1922-2005) passed away. Ray R. Nichels, Nichels Engineering (Obituary) 051126
One of the preeminent race car mechanics and car
builders of the 1950s and 1960s, passed away on Friday, November 26, 2005. Arrangements
are being finalized later today by his wife Eleanor. More information will be mailed to you early
tomorrow morning. At present tentative plans are to have Visitation Monday, November 28th,
afternoon and early evening at: Lincoln Ridge Funeral Home, 7607 W. Lincoln Hwy (US Route
30), Schererville, IND 46375 Phone #219-322-6616. Mr. Nichels funeral is planned for early
morning Tuesday, November 29th at: Our Lady of Consolation Catholic Church, 8303 Taft
Street, Merrillville, IND 46410 219-769-1755 See
www.olcweb.org
(William LaDow)
*
Jonathan Thompson,
former Road & Track writer/editor, and aurthor of several great aviation
books as well, died several weeks ago. (Dr David Scully)
*Jim McQueen passed away this morning, November 28, 2005, at his home in Indianapolis,
Indiana. For a full biography go to
www.oilstick.com
for details of his life. (Pattie Frost)
..word from Dr Dave that Sprintcar "Don Brown" died after a long illness. (Don Rudy)
---
*Just talked to Dana Wilson this afternoon. He called me from the hospital. He was work-
ing around his house when he slipped and fell. His head/neck struck a post and as a result
suffered a broken neck. The break is at C-2 which is the same as actor Christopher
Reeves suffered some time back rendering him paralyzed. Fortunate Dana's break did not
cause any paralysis. The doctor said he was one lucky S.O.B. He is remaining in the hos-
pital perhaps through this weekend although there is a chance he will be released sooner.
When he's released he will be wearing a C-Collar for sometime allowing him no movement
of his neck. 12 weeks is the estimate for the C-Collar. Please say your prayers for Dana
for a full recovery. (Mike Waters)
---
Ray R. Nichels, Nichels Engineering (Obituary) 051126
Yankie passed away Monday morning, 11/14/2005, on his seventieth birthday. This Thursday, November 17th, there will be a viewing at Welch-Ryce-Haider funeral chapel, located at 15 East Sola Street in Santa Barbara, beginning at 8:00 am till 9:30 am. At 10:00 am there will be a service at Our Lady of Sorrows Church located just down the street at 21 East Sola Street. Yankie will then be taken to the Santa Barbara Cemetery, off of Channel Drive in Montecito, to be laid to rest next to his father, Harry Breck, Sr. With heavy heart, Cynthi Bacon.
Should you like to send a card.. his Mom's address is: Barbara Breck, 840 N. Patterson, Santa Barbara, CA 93111
Kenny Parks passed away on Oct 19, 2005, #94
The following racers have passed away: Wayne Weiler, Danny Curry and Duncan Emmons. 051019 #93
Pat Miranda passed away September 29, 2005 #92
Mercy Miranda passed away 3 days later. #92
Bear (Gary Smith) passed away in October2005 #92
Maurice Raymond Chasse',
known to all of us as "Topper". passed away recently.
#90
*Jack Davis, Fabulous 50's member, of Silver City NM, passed away recently.#89

*John Rush suffered a broken neck, arms and legs, swelling on his brain. He can wiggle his
Rod BushThe American Motorcyclist Association (AMA) has announced that Rod Bush, president of
KTM North America and a corporate member of the AMA Board of Directors, died the even-
ing of September 12 after a brief illness. He was 50. 050912
#89
*
Topper Chasse
. Wednesday, September 14, 2005, 12:45pm.
#88
050914
Calvary Cemetery 4201 Whittier Blvd, Los Angeles CA. In lieu of flowers
a donation to the following would be appreciated to: Downtown Women's Center, 325 So. Los
Angeles Street, Los Angeles, CA 90013, or call 213-680-0600. (Theresa)
#86 050901
Kevin Doty dies after racing crash. #85 050823
Charles W. (Scotty) Scott 91, #84 050821
Art Evans reports that Bill Murphy passed away. Bill was a road racer who used Frank Kurtis
cars and Buick engines, and road raced in the 50's. 050720
Photo Will Scott with Richard Parks.
Obituary notice for Allen Strasburg was in the Deseret Morning News on Sunday posted 05713
Gone Racin Newsletter #79
Jack Mendenhall passed away this morning. July 4, 2005 Funeral services information photo of Jack
Norm Grant's wife passed away - he is ill also. Click here. #78
coupe with Mike) Gary Brown *hey gary my name is blu (norm price III). I'm mailing you to inform Mike Demerest past on the morning of June 23, 2005 from a heart attack. it is no B.S. please make light to whom-
ever might remember Mike. thanx, blu
*Tommy R. FRANKHOUSER, Born March 2, 1928, passed away on May 22, 2005. Survived
by his beloved wife of 40 years, Carolyn, son, Dale and daughter-in-law Ginger, nieces, nephews,
cousins, and many friends. A long-time Mercer Island, Wash. resident, Tommy was crew chief of
the "Miss Budweiser" unlimited hydroplane in the 1970's. In recent years the hydroplane racer
volunteered on the U-2 Tredwest team and enjoyed his annual trip to Mission Bay to watch the
races. He loved cars, especially his restored 1959 El Camino, and was an excellent woodworker.
Predeceased by his twin brother Jerry and brother Earl. Memorial Service were held Sunday,
May 29. In lieu of flowers, remembrances to American Heart Association or American Cancer
Society. (Owen Blauman)
Drag Racer Jeff Tinsley is ill and undergoing test #74
Bruce F. Barnes, 70,passed away May 23, 2005 #72
Leroy Neumayer's in hospital in Jackson Hole, Wyoming. #72
Roberta Nichols Yakel Memorial. Saturday, June 25, 2005, from 11:30 am to 4:30pm #71
*Jack Early died on April 17; he is survived by his wife, Marilyn. May 12, 2005 #71
Ed Leslie died on March 31. 2005 #71
Ted Roberts died on March 4. (Art Evans of the Fabulous 50's ungroup) #71
Ralph Foster is still recuperating from his broken hip, but is home from
the hospital and would also enjoy a call or letter. 2005 May 12
Leland F. Kolb, 75, passed away Sunday, May 1, 2005, in Lake Havasu City, Arizona.*#70
Vince Conze passed away on May 6th at the age of 91. *#70
Betty Cook - one of the most successful off shore boat racers of all time- Passed away 12/23/90 at 67
Rosie Rosenloft passed away. (lost the information of date, ejr. My apologies. )
Old index with all the obits and illness 050819 (some were not able to view this page so we have reworked it and hopefully this will help those browsers. You are still able to see the old page with this link. Thank you. Evey)