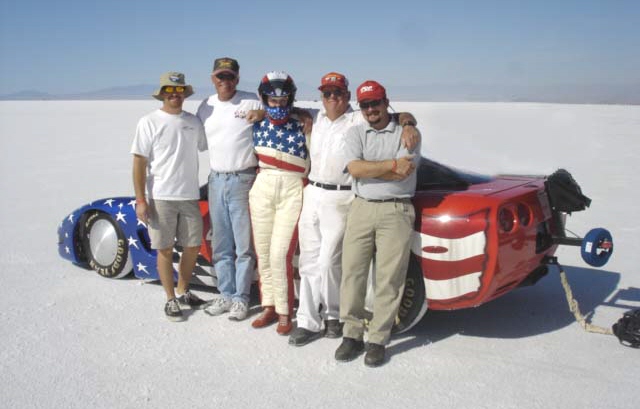 Kelly - Al - Gail - Doug - Wayne
~ New World Record 190 MPH E/GT Class ~ Aug. 2006-Bonneville, Utah
Doug Odom - Crew Chief - Engine/Car Builder Extraordinar Doug has over 40 years experience building and racing cars in NASCAR, SCCA and SCTA. Also he worked for Shelby American and Holman-Moody Strope. E-mail: dlodom and the rest is @charter.net
Gail Watson Phillips - Driver fastdrvr and the rest is @verizon.net
Allen Phillips - Team Leader - Racing Facilitator. Al has many years of experience restoring straight-axle Corvettes. E-Mail: fastdrvr and the rest is @verizon.net
Wayne Villard - Crew - Engine Mechanic and fabricator. Wayne has worked on sprint and stock cars for the past 10 years.
Ron Kealen - Crew - Metal and paint expert. Ron has painted many show cars in his years of running his own body shop.
Kelley Pulser - Newest Crew Member - who does what ever has to be done.
PAST MEMBER:
Ray Rosson - Radiator Builder and Mechanic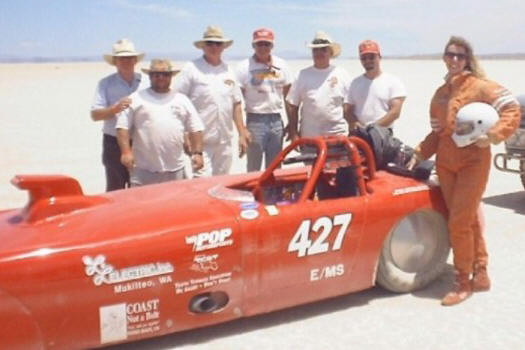 Ray (Lee) - Ron - Al - Doug - Wayne - Gail
~At El Mirage Dry Lakes in 1999. ~
Crew at Work Photos