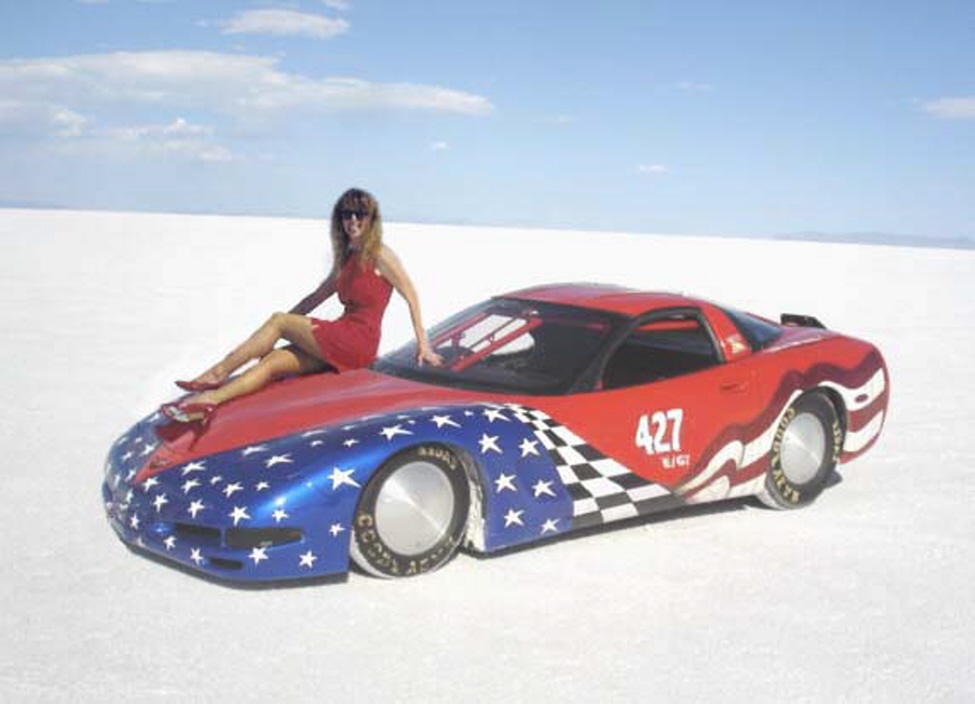 P . O . P. MOTORSPORTS
Press Release
Since the very popular movie "The World's Fastest Indian" came out with Anthony Hopkins playing motorcycle racer Burt Munro,
interest in the Bonneville Salt Flats and Landspeed racing has increased dramatically. This year's "Speed Week" at Bonneville
August 12 – 18th, was the biggest event ever in it's 50+ year history with over 500 pre-entries.
Local racer Gail Phillips, of Pismo Beach, who has been racing at Bonneville for the past 11 years and already holds 5
records including being the 7th woman inducted into the prestigious Bonneville 200 MPH Club, has just returned from a
very successful week after capturing her 6th world record.
Driving her new 1999 C-5 Corvette in the Grand Touring (GT) class with a 1959 small block 258 ci (E) Chevy engine
her goal was to break a 183.9 MPH record set in 1978. After a routine check out run of 168 MPH, she made a 191 MPH
qualifying run that put her in impound to wait for the following morning's record back-up runs. Racing at dawn into the
rising sun across the pristine expanse of glistening white salt she ran 189 MPH giving her an average speed of 190
MPH for a new record in the E/Grand Touring class.
Background
P.O.P. Motorsports Racing was created in 1994 by Doug Odom - race car designer, builder and Crew Chief,
with the help of Allen Phillips - crew/logistics, Gail Phillips – driver, and Wayne Villard –crew/fabrication.
Doug Odom, with his extensive background in custom engines, has successfully built several world record breaking race cars.
Phillips has been racing a 1959 Austin Healey Sprite in the E/Modified Sports class, designed and built by Odom which
is the world's fastest Austin Healey and which put Phillips into the Bonneville 200 MPH Club in 1999 at 202 MPH, and the
Dry Lakes Racers Australia (DLRA) 200 MPH Club where she is the first female to set a record over 200 MPH in 2001
at 205 MPH at Lake Gairdner in South Australia. She added her 5th record in the Fuel Modified Sports class at Bonneville
in 2004, and her fastest speed to date is 215 mph. The race team also participates in races at the dry lakes of El Mirage in
the Mojave Desert.
Along with the recently retired Sprite and the newly tested and proven Corvette, the P.O.P. Motorsports race
team is working on their most ambitious project yet, a custom built Streamliner to run in the F/Gas Streamliner class
using a 3 to 4.24 liter engine with the goal of setting new speed records over 300 MPH here in the U.S. and Australia
next year. Gail is looking forward to the challenge as the faster she goes the faster she wants to go!
Check out the website of the Southern California Timing Association (SCTA) / Bonneville Nationals Inc. (BNI)
for photos of vehicles and listings of all the record runs. www.scta-bni.org and a related site with daily feedback
from the long course www.landracing.com.