This is a PRIVATE Museum by invitation only.
To make reservations for a group please email here.
21ST GAS-UP AND DRY LAKES RACING HALL OF FAME CEREMONY
ON APRIL 18, 2015
Jack's Museum of Gasoline Pumps,
road signs Gasoline Memorabilia housed in Buellton, CA

Ever wonder what happened to all those signs of the gas stations?
Many are housed in Buellton at Jack's Gasoline Museum


Many that survived are housed in museums .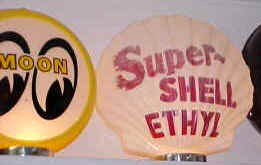 This group of photos is from the
Gasoline Museum of Jack Mendenhall, Buellton, CA
This is the Home of The Dry Lakes Racers Hall of Fame
2012 GasUp Photos April GasUp Photos 4-20-2013
Jack and his family and friends created the Museum of Gasoline Pumps in
Buellton, California. The Gold Coast Roadster and Racing Club uses this
Museum to hold their annual Gas-Up Party and Dry Lakes Hall of Fame
Bar-B-Que and Awards ceremony. Jack organized the Security Team at
Black Rock Desert in 1997, for the British and American attempts at the
Land Speed Record. He was involved in Jalopy and Drag racing, and is
a member of the SCTA/BNI 200 MPH Club, and a member of the
Dry Lakes Hall of Fame. by Richard Parks 050914



New Hall of Fame Member List A - M(11/2011)
New Hall of Fame Member List M - Z (11/2011)
Distinguished Vehicles (11/2011)

May we suggest lodging at these quality hotels and motels.
Motels in area with ability to book online. also
Visit our www.SolvangCA.com